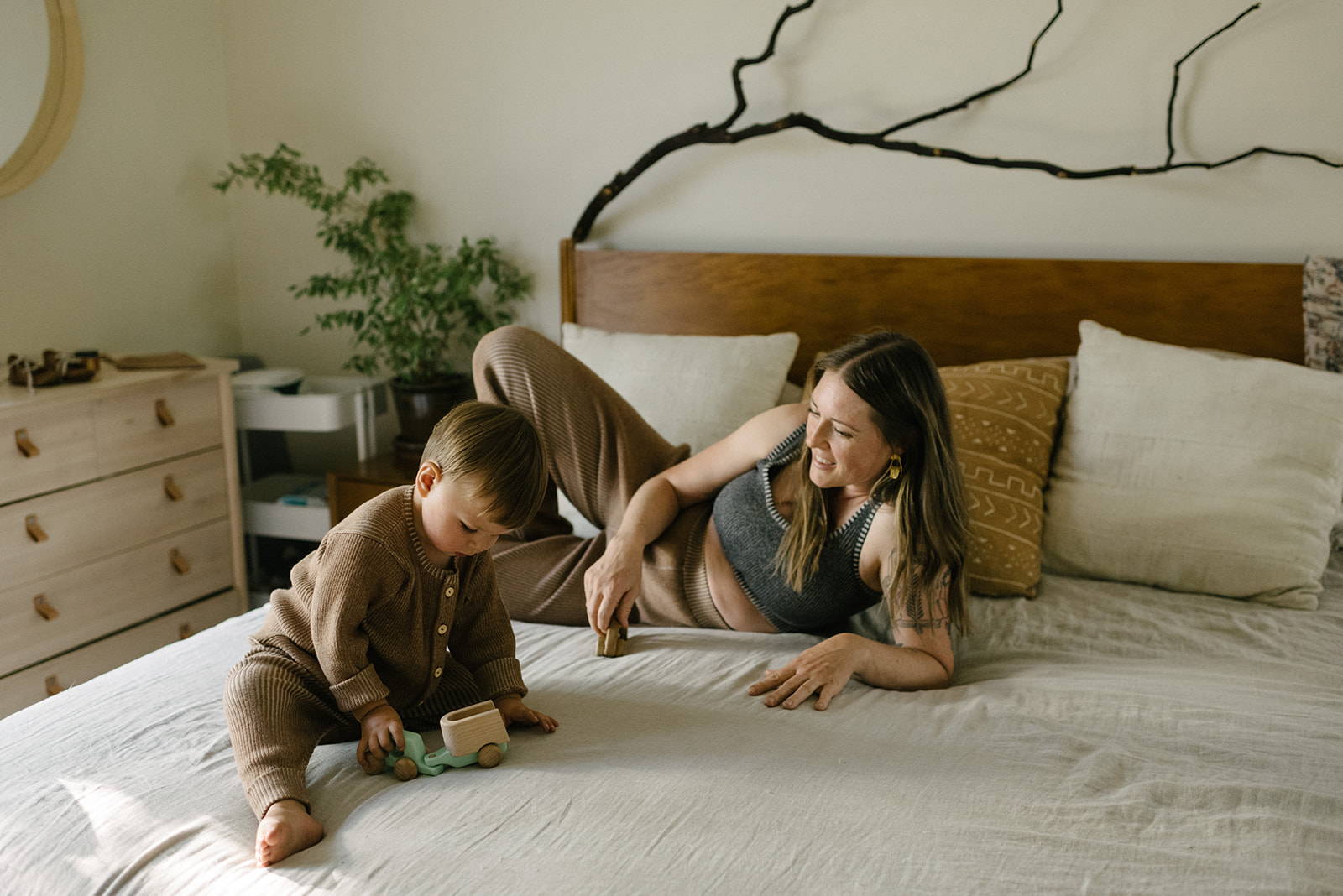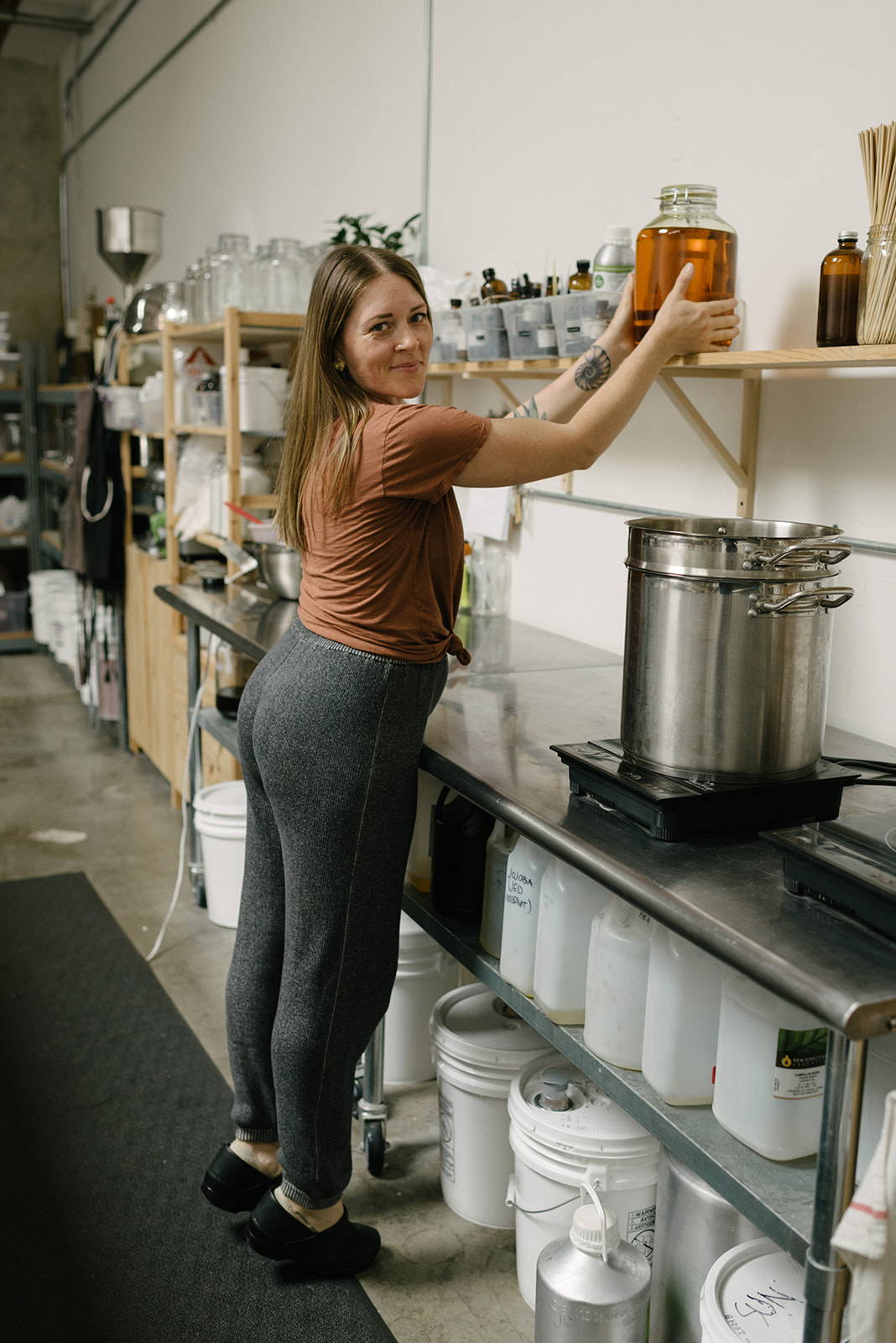 We first met Leyna as a part of the amazing community created by West Coast Craft, and have looked forward to catching up with her at every show. Leyna is a Northern California native who founded Urb Apothecary out of a passion for the power of herbs and botanicals and an awareness of the toxicity of the beauty industry. Her vision is to "bring the healing power of plants into daily beauty and grooming rituals, reconnecting individuals to their own natural beauty and while being mindful of their environmental impact." In 2018 Leyna relocated from Santa Cruz to her hometown of Sacramento, and the following year welcomed her son Cash. We asked Leyna to share a glimpse into her life and business, and to reflect on her journey so far with motherhood.

Photographer Jacki Potorke tagged along on a typical day with Leyna and her son Cash in and around her home and studio in Sacramento, CA.
"My name is Leyna: fun fact, my name comes from a Billy Joel song. Anyhow, I grew up in Sacramento until I was six and then we moved onto a bunch of land down a long dirt road in Grass Valley. It was such a magical place to grow up, ponds to swim in, blackberries to pick in late Summer, oak trees to climb and build forts, and a meadow to lay in and daydream or nap. I went to elementary, junior high, and high school in Grass Valley, later moving to San Diego for college, then a brief stint back after graduation before heading down to Los Angeles for four years. I thrived in LA, riding my bike and exploring the hidden parks, emerging gastopubs, and ultimately meeting my boyfriend/ life partner while we worked at Trader Joe's. I was in LA amidst the buzzing energy of creativity that seems to permeate the city that URB APOTHECARY was started. "
What drew you to herbalism and how did it lead to the founding of Urb Apothecary?
I think I have always loved the mystical power of plants, but it wasn't until I read a historical fiction in which the main character uses plants in her surroundings to help heal ailments and wounds, that I was moved to purchase every herb book and learn more about the medicinal quality of plants. Initially, it was a passionate hobby and that slowly grew into my full-time job once we moved to Santa Cruz.
Running your own business and parenting is already a challenge, and then came the pandemic. How did you balance the shift in roles when becoming a mother and then seven months later when the pandemic began?
It really is a challenge to juggle both, especially as they both grow! Well, at the very beginning of the pandemic things basically stopped, no shops were ordering and they were a few online orders trickling in, but no one knew, including me, how this would unfold. So I spent those weeks going on long walks with my son, Cash while listening to podcasts and just taking the time to just be. Luckily, the business isn't open to the public like a brick and mortar would be, so once orders started to come in again, I just continued making products as usual and working on the rebrand which launched in May of 2020.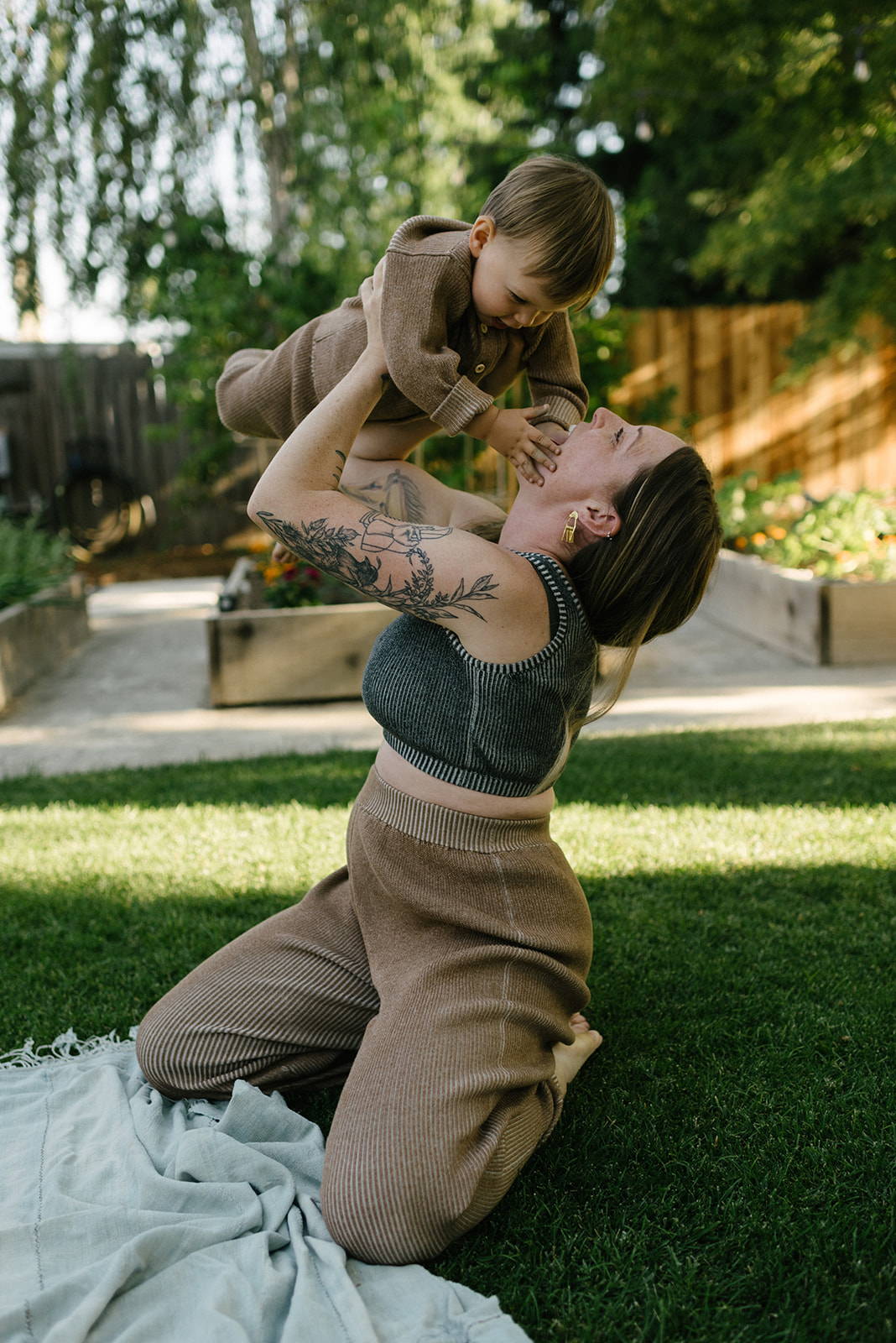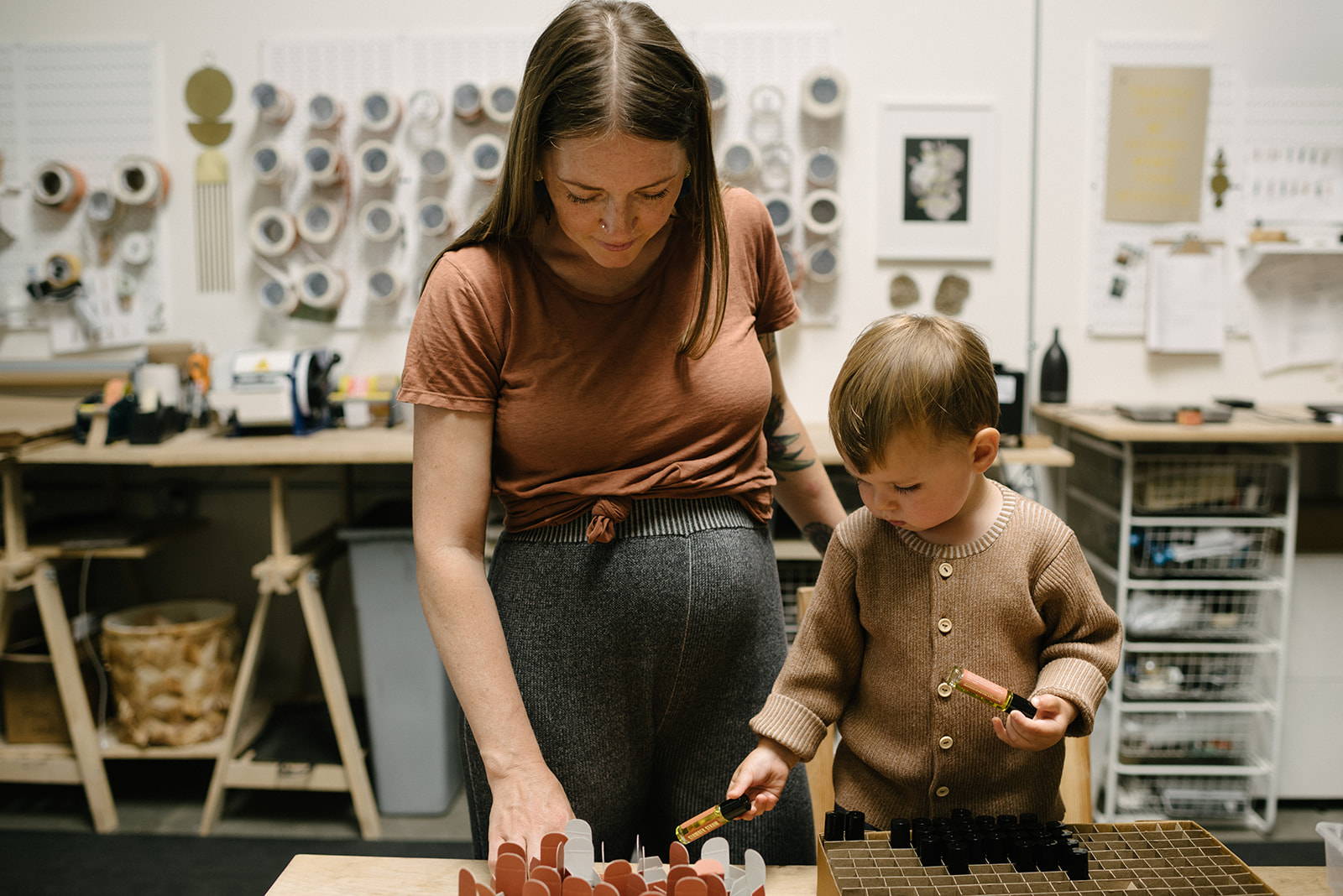 How have herbs supported you and your family through pregnancy and into parenthood?
Herbs and pregnancy are a funny thing in that many of the adaptogens that I would take prior to pregnancy aren't recommended. Adaptogens' goal is the help keeps the body and hormones in balance and pregnancy is a time when everything feels out of whack, but it's supposed to be that way. But I LOVE red raspberry leaf, rosehip, nettle, and milky oat tops to help me feel grounded and nourished.
Did you always know you would be a mother?
Honestly, yes and no. I knew I could do it and maybe even be good at it, but I wasn't 100% sure that I wanted to. So many things I felt might be in jeopardy; my freedom, my identity, how I viewed my body, and fear of the process of giving birth. But after working through a lot of these I was so excited to do my best alongside my partner, to raise a human that would hopefully improve upon the shortcomings of past generations.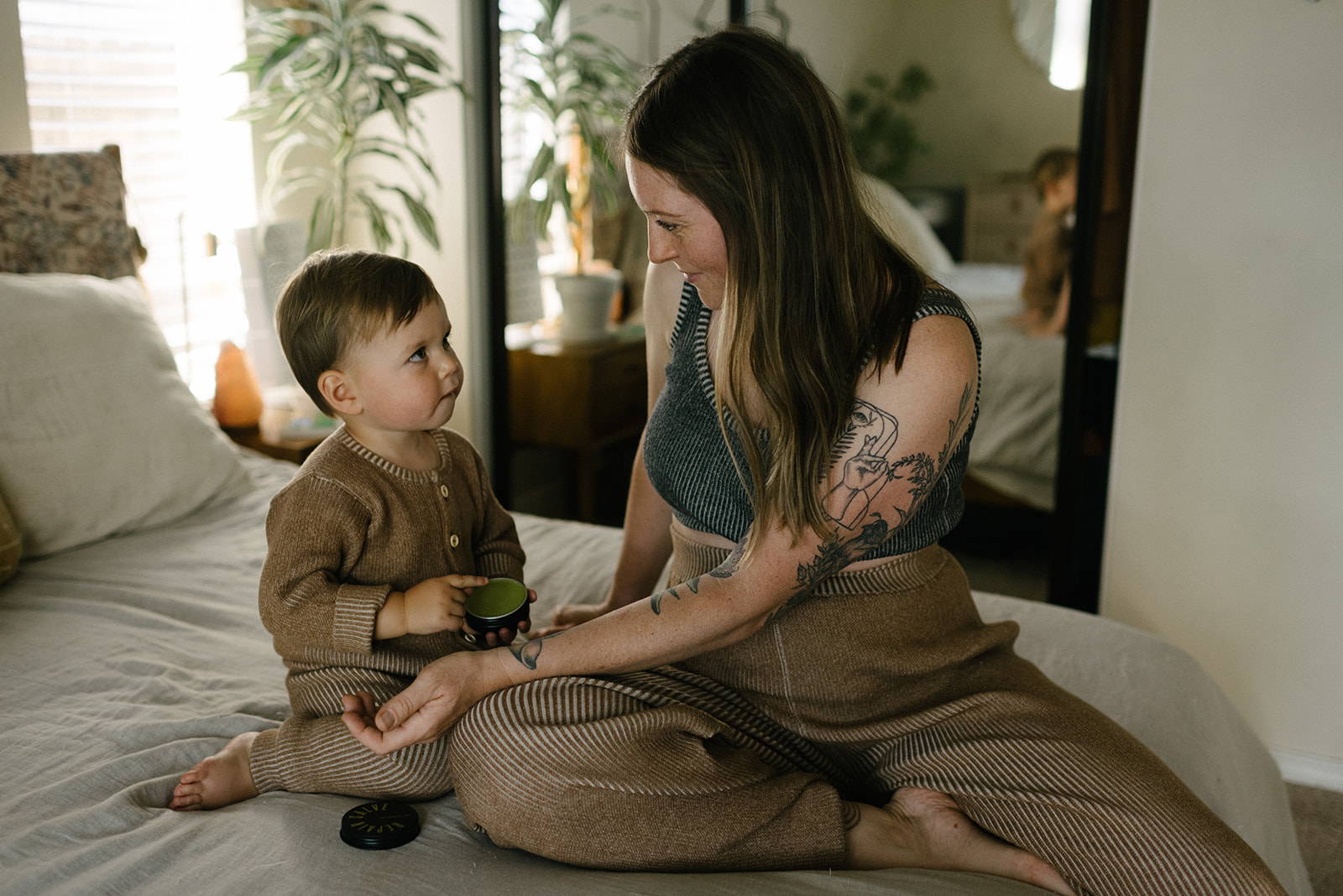 Tell us about your home. What are your favorite areas, and where did you most find comfort this past year?
We moved from Santa Cruz in September of 2018 to Sacramento. If you would have told me four years ago that I would move back to the central valley I would have laughed at you. I never loved it here but so, so, so much has changed in the past few years and it is a city with a bright future, amazing food/art-scene, TWO freaking rivers running through it, and close to the mountains, desert, and ocean. And the part I love and missed the most while we were in Santa Cruz is the HOT summers! I love the hot days that just beg for a river swim and turn into the most delightful warm evenings. We have worked super hard on our house to make it feel like home and I think one of our favorite "rooms" is the backyard. It was covered in thick ivy and nothing but a dirt patch, but we have managed to transform it into a haven and I love being out there every day, especially in the morning and evening.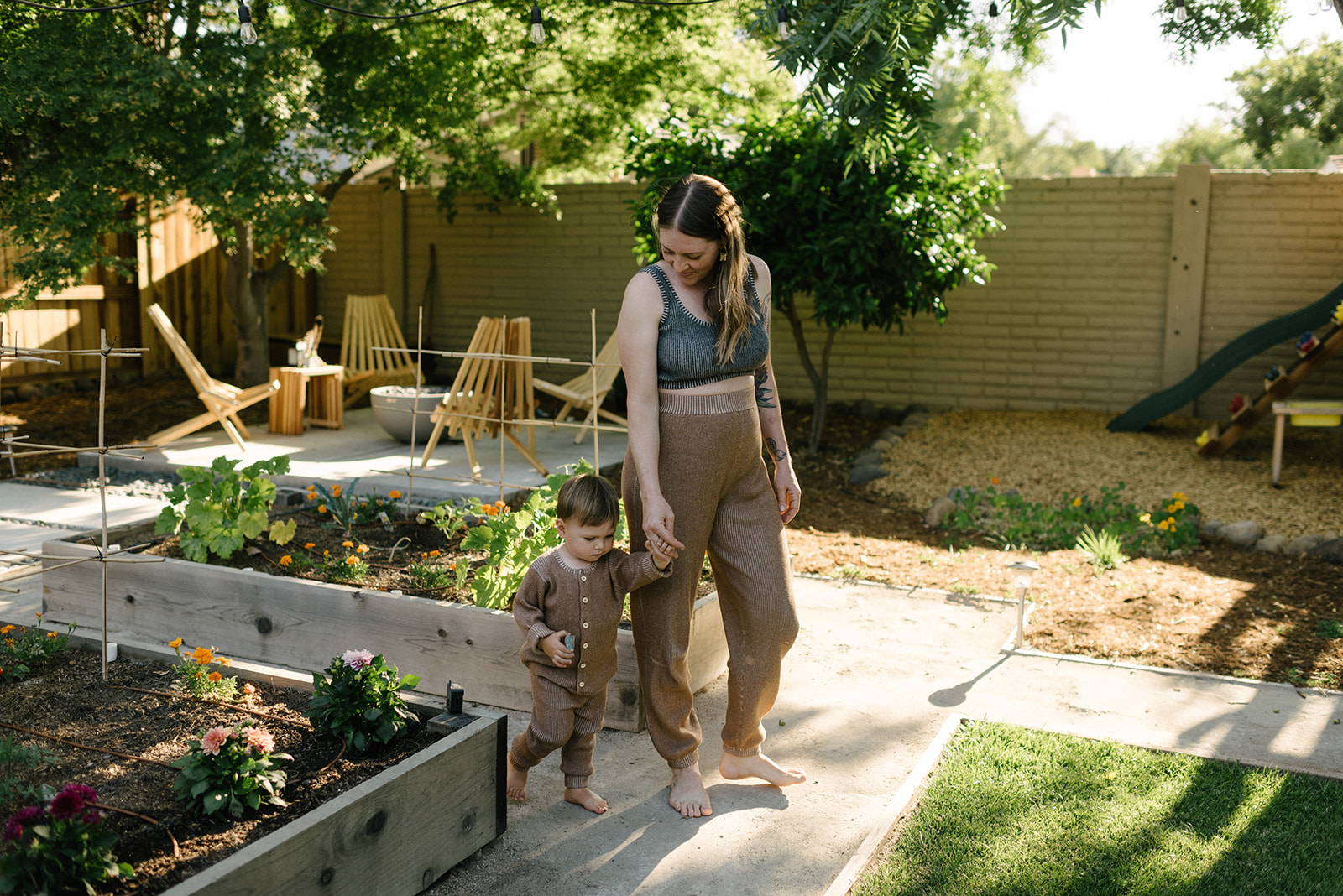 What is your favorite part of motherhood?
So many parts, but I deeply love watching the transformation and development of this little human. It changes every week and it is mindblowing to be a witness to and to help him through identifying and moving through big emotions. And the toddler babble and him finally saying "mama" just makes my heart melt.
What has been challenging?
ALL OF IT! I think patience is really the most challenging. It takes so much patience to think of ways of redirecting them, of dealing with them testing and discovering their boundaries of self and environment, of feeling like to need to work but I literally can't because they need my attention. I have found having just a few hours a week to myself really helps fill up my patience reserves.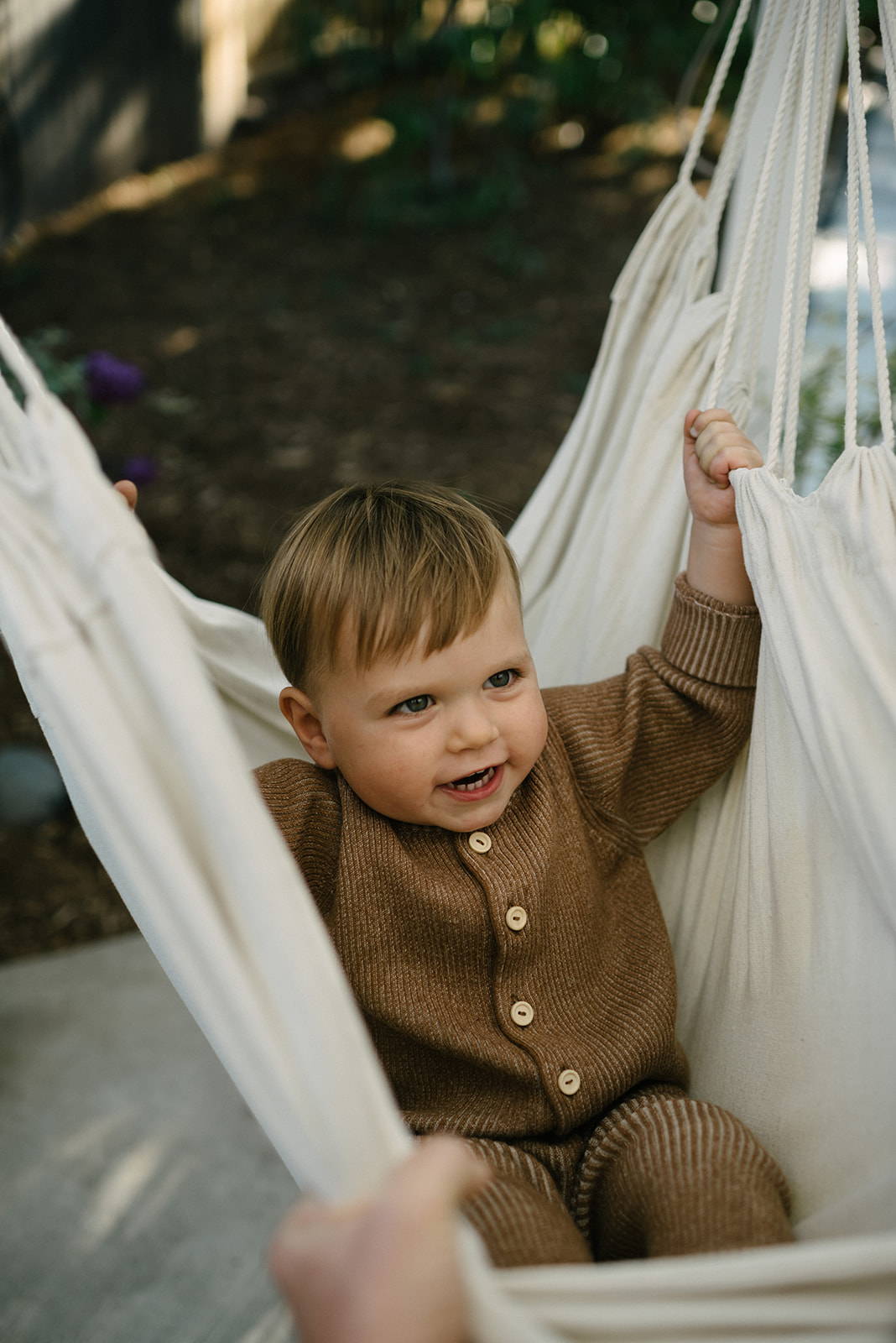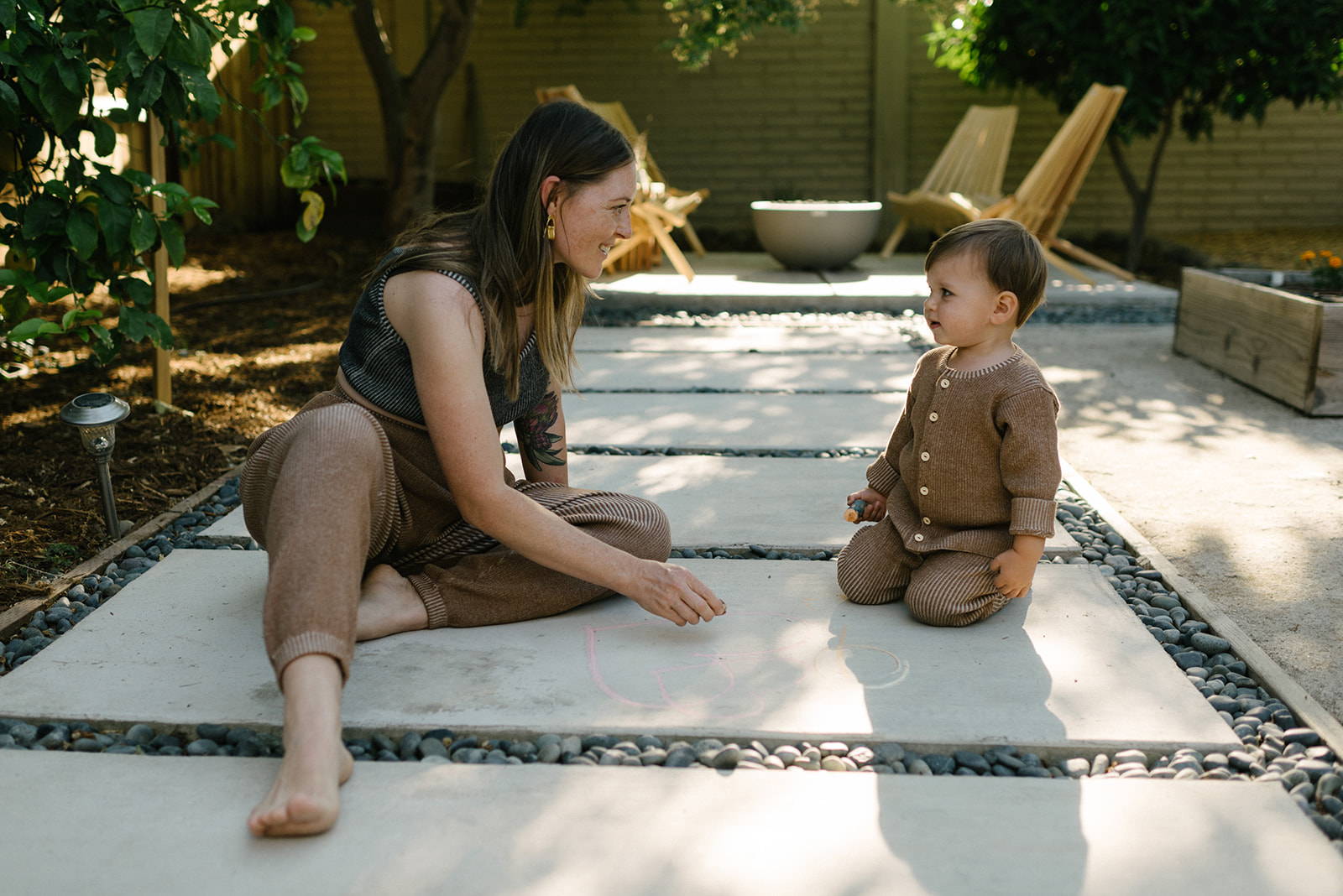 How would you describe your personal style and has it changed with motherhood?
I think my sense of style is minimal, I mostly stick to the basics, high-waisted pants (dear heaven may they never go out of style), linen/cotton blouses, and my Blundstones and sandals now that it's summer.
Oh, it has changed GREATLY since becoming a mom. I don't see that many people throughout the work week so things stay pretty simple, it needs to be comfortable in the sandbox, at the park, and at work.
How do you and Cash spend your days together?
We usually walk to the park near our house twice a day, once in the morning and again after dinner, and we may get lucky enough to walk down to the river to throw some rocks. He still naps about 2-3 hours a day and it's the time I try to get the most work done as possible.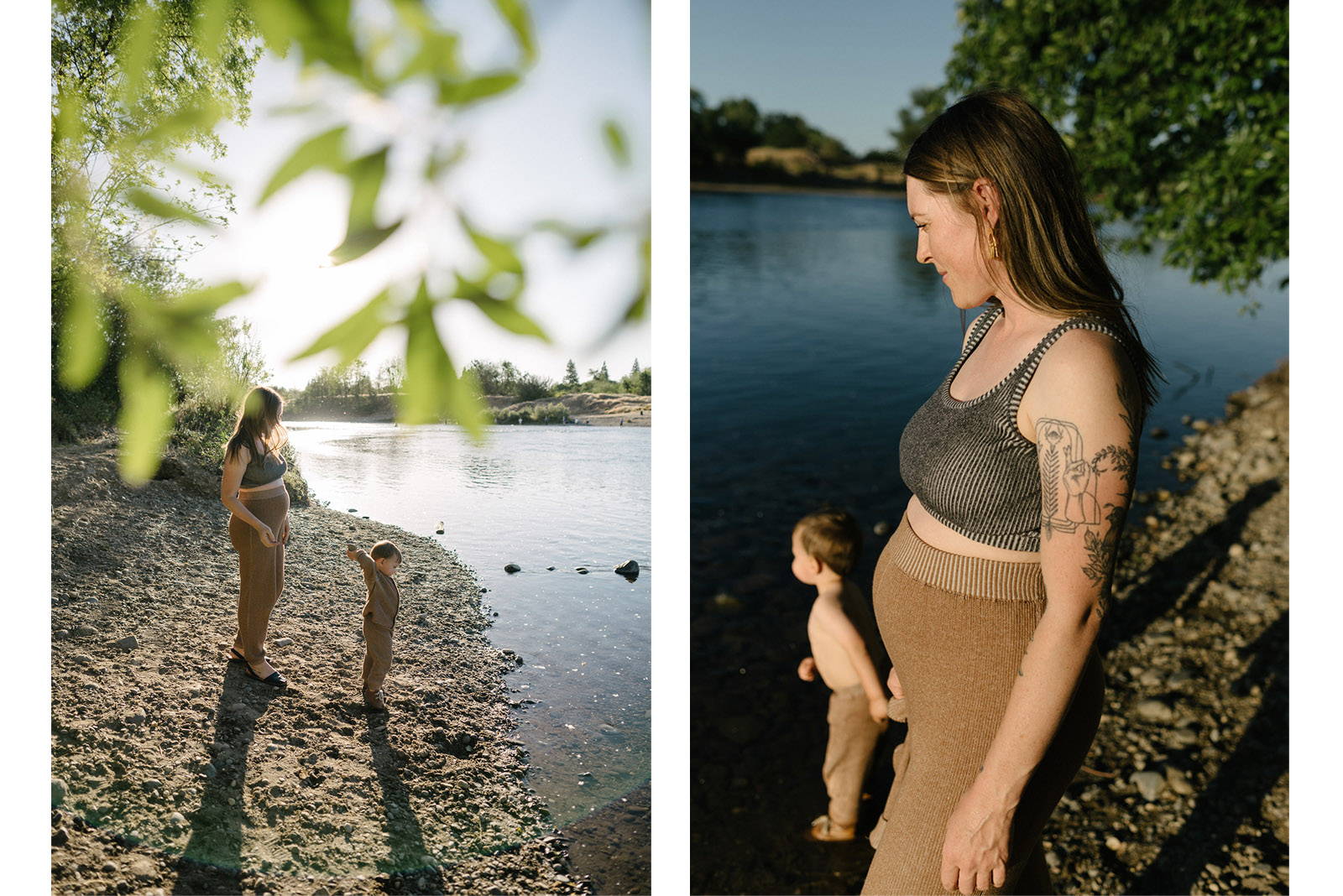 What makes you feel grounded?
Alone time that doesn't count me being in the studio, dinner with friends,
going for a river swim, and practically anything that involves me being outside.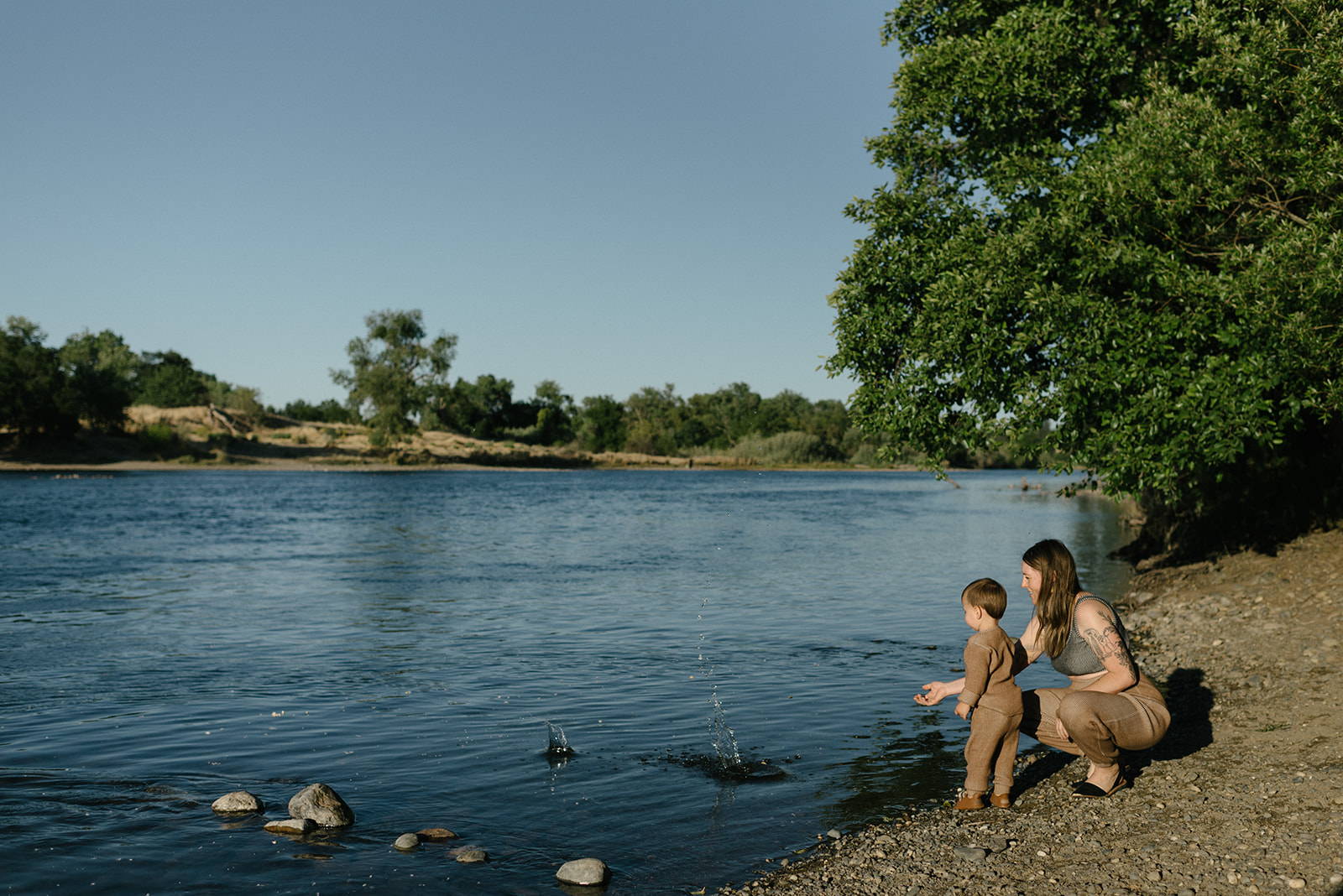 Shop Leyna and Cash's First Rite